My name is Hu Kent, I live in Cardiff, the capital city of Wales, in the U.K.
My main hobbies are Motorsport and Golf.
I have been involved in Motorsport for more than 50 years, and for the past 40 years have been an M.S.A. appointed Steward, which means I officiate at all types of Motorsport events.
I am married, with a son and a daughter, who both now live in New Zealand, and I have four grandchildren,
Sean, Grace, Harrison, and Brooke.

I caught the dreaded disease of Motorsport, when I started navigating on road rallies in 1965, and I went on to try Autocross, Rallycross, Hillclimbing, Sprinting, Karting and Racing, both in Saloons and Single Seaters. I finally settled into Rallying, with only moderate success until 1988, when I won my Group, and was 2nd in class in the European Rally Championship,although, I have had many top ten finishes on all types of rallies,including a few wins,from road rallies to International stage rallies.
I decided to give up driving in 1989, as the cost of a competitive car was becoming increasingly expensive, so I thought I'd have a bash at co-driving, easy I thought, someone else pays for the car, I have fun and don't have to fork out lot's of dosh when it gets wrapped around a tree!!!
I have been British Champion F2 Co-driver, Twice.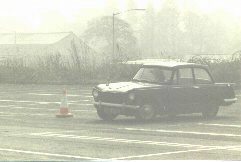 This is my wife Penny, autotesting in her
Triumph Herald 13/60 - in 1975
She WON!